With ever-so-fast technology, trading stocks has never been so easy. Online trading has taken over the world, with all of its benefits and additional features over traditional trading. However, the availability of plenty of online brokers has made it even more challenging for amateur traders to choose the one that suits their needs; this is where reviews can help. So today, in our Fyers Review 2023, we will explore the platform's services to determine whether it's a good fit for you.
Fyers Securities is an online stock broker based in Bangalore that was founded in 2015. Personally speaking, I have been using Fyers for more than one year, and the journey has been quite good. But there are certain drawbacks also.
In this detailed Fyers review 2023, we will walk through the platform's services, fees, and trading platforms so that you can make your decision as per your trading style. 
Fyers Review 2023: What Is It?
Fyers Broking was established in 2015, and in such a short time, it rose to the top of India's cheap brokers. The headquarters of this broker is in Bangalore, Karnataka.
The platform allows trading and investing in NSE Equity, NSE Futures & Options, and NSE Currency Derivatives at no additional cost.
It provides a proprietary online trading platform with a desktop and a mobile app. It claims to enhance the online trading experience of its users.
Is Fyers Legit or Scam?
Fyers is a legit stock investing and trading platform as it is regulated by the Securities and exchange board of India (SEBI), with license no INZ000008524. 
Other than regulation, we feel immensely satisfied with the security provided by the broker. Your funds are completely safe because of the high-security measures implemented by the brokerage firm. 
Apart from SEBI regulations, the brokerage platform is a member of the following authorities:
CDSL: IN-DP-432-2019
NSE: 90061
MCX: 56100
BSE: 6697
Fyers Review 2023: Pros and Cons
Pros
No minimum deposit
Free equity trading
Thematic investment
Fast trading platforms for quick execution
Earn 20% on referring to others
No hidden charges
Cons
Fyers Review: Available Products & Services
Fyers is probably the simplest stock investing platform, with plenty of services that are enough to attract any investor. In this section of Fyers Review 2023, let's talk about the platform's unique features and reasons why choosing it can be a good decision.
Thematic Investment
Thematic investment feature allows buying a group of stocks that are related to the theme. Investors can choose from hundreds of predetermined themes or portfolios offered by Fyers to invest in the stock market. There are specific stocks related to each theme.
When compared to exchange-traded funds (ETFs), themed investments give far more freedom because the firms to invest in are chosen by the broker, fund manager, or even a community of investors.
Fyers Direct
Fyers Direct is probably the most attractive feature and the platform offered by this stockbroker. It allows direct investing in mutual funds without paying hefty amounts as commissions.
The features of the Fyers Direct platform include One-click Investing, a portfolio tracker and instant redemption of mutual funds.
Fyers API
The Platform's API feature lets its users use Fyers Algo trading and connects them to third-party platforms for free. It allows users to place high-speed orders in less than 100ms.
Fyers API Bridge
It is the advanced version of the Fyers API. The features get more advance here. You can effectively manage your risks using trading strategies, make use of paper trading (Demo Trading account), and access a wide variety of trading platforms, such as MT4, TradingView, Python, AmiBroker and C#.
Fyers IPO
The stock investing platform allows investors to invest directly in the upcoming IPOs and FPOs of all major companies through the Fyers IPO portal. All this is possible with a single Fyers demat account.
Fyers Pledge
The Pledge facility of the platform allows users to earn passively. Users can pledge their Equities, ETFs & Mutual Funds to get collateral margins to trade in the Futures & Options segment.
Fyers OFS
The platform allows investors to invest in an Offer For Sale (OFS), which is an investment opportunity for investors to own shares of a listed company where a promoter wants to sell off part of their investment.
Fyers Fees & Commissions
While Fyers is a low-cost stock broker, there are still some charges every potential user should be aware of. Here's a detailed Fyers fee structure:
Fees
Delivery
Intraday
Futures
Options

Stocks
STT/CTT
0.10%
0.025%
0.01%
0.05%
GST
18%
18%
18%
18%
Exchange Charges
0.00325%
0.00325%
0.0019%
0.053%
Clearing Charges
0%
0%
0.0005%
0.009%
Stamp Duty
0.015%
0.003%
0.002%
0.003%
SEBI Turnover Fee
₹10/Crore
₹10/Crore
₹10/Crore
₹10/Crore

Currency
STT/CTT
–
–
0%
0%
GST
–
–
18%
18%
Exchange Charges
–
–
0.0009%
0.04%
Clearing Charges
–
–
0.0005%
0.009%
Stamp Duty
–
–
0.0001%
0.0001%
SEBI Turnover Fee
–
–
₹10/Crore
₹10/Crore

Commodity
STT/CTT
0.01%
0.05%
GST
18%
18%
Exchange Charges
0.0026%
0.05%
Clearing Charges
0.0018%
0.05%
Stamp Duty
0.002%
0.0003%
SEBI Turnover Fee
₹10/Crore
₹10/Crore
Fyers Review 2023: Other Charges
| | |
| --- | --- |
| Fees | Amount |
| Account Opening charges | ₹0 |
| Call & Trade Services | ₹50 |
| Admin Square Off Charges | ₹50 |
| Demat Debit Charges | ₹7 + ₹5.5 (CDSL Charges) |
| Physical Contract Note Charges | ₹20 |
| Physical Delivery | 0.2% |
| Stamp Charges | ₹50 |
| Additional Delivery Instruction Book (5 leaves) | ₹100 + courier charges at actuals |
| Modification in Client Master List (CML) | ₹50/- |
| Modification in KRA / Download | ₹50/- |
| Transfer of shares from FYERS Demat to other Demat | ₹12.5 + GST per scrip |
According to our findings from Fyers Review 2023, the fees and commission charges seem to be under the average industry standard. However, some of the minor charges may distress you. Alternatively, you can buy or sell stocks by paying a small commission on InvestBy, InvestFW or Capitalix. Apart from commission, there are no other hidden charges.
How To Open Account With Fyers?
Opening a trading account with Fyers is much easier and takes very less time. You will need a trading or demat account to get started with the platform.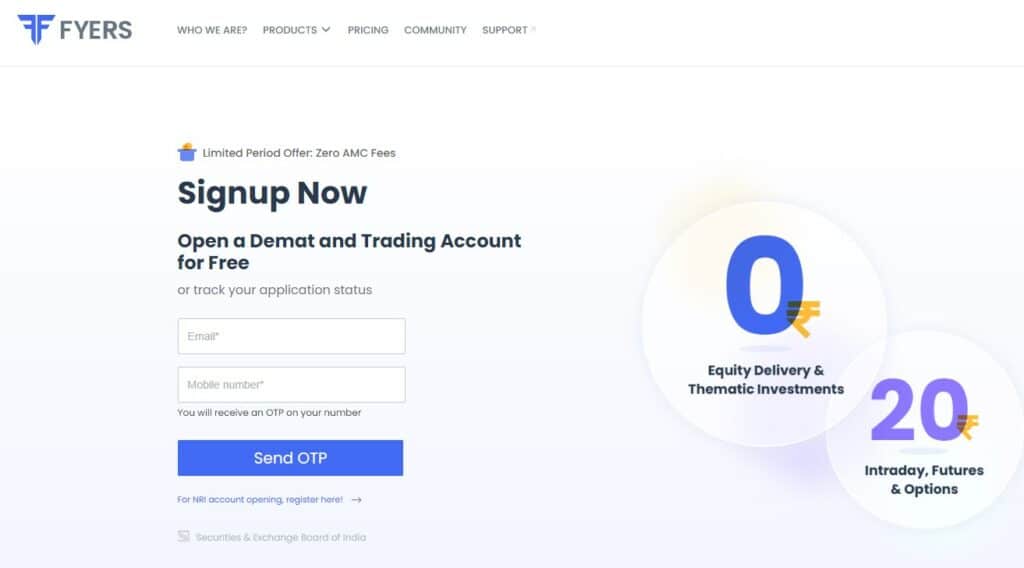 Follow these few easy steps to open a Demat account with Fyers:
On the homepage of Fyers' website, click on the 'Sign Up Now' button.
Fill out the Fyers demat account opening form by submitting all necessary information, including your name and contact information.
After scheduling a visit, a representative will come to your location.
All necessary documentation will be gathered by the representative.
Your Demat account will be opened within a few days.
Upon activation, sign in to your account using the Fyers login credentials.
Fyers Review 2023: Deposit and Withdrawal Process 
You can deposit funds into your account with RTGS/NEFT, UPI, and Net Banking. Personally, we liked the UPI method as it is the most suitable and less time taking. And for UPI, you do not have to pay any transaction fees. But RTGS, it charges Rs. 10 per transaction.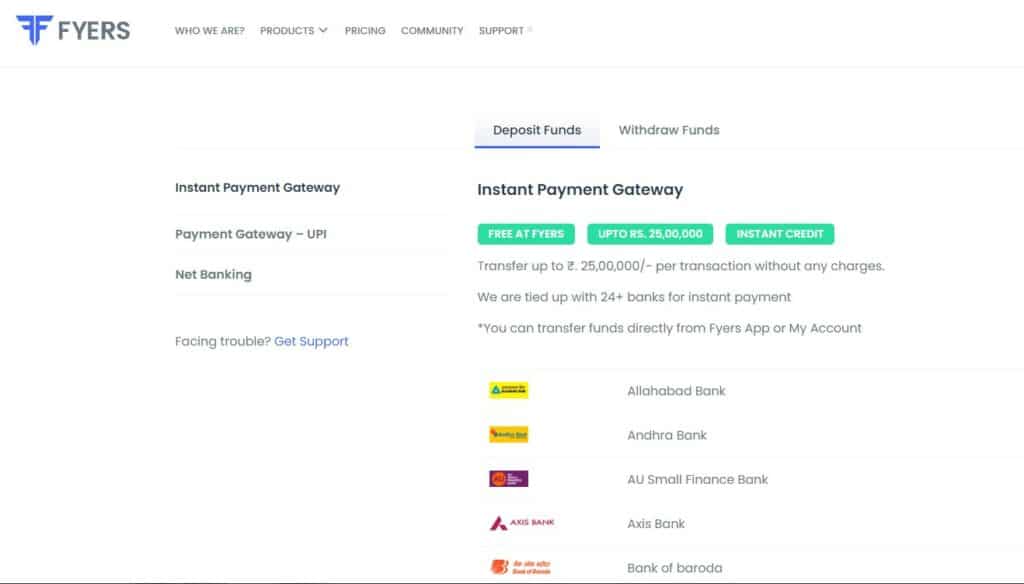 Other methods are expensive and painful, so it would be good for you to use UPI. For withdrawals, you can use these same payment methods. The withdrawal process usually takes up to 24 hours to complete.   
Fyers Review 2023: Available Trading Platforms
At Fyers, there are different trading platforms with their specific benefits. These platforms support all customer logins and also allow visitors who are not customers to browse through some basic features to learn more about how the trading platform works.
Through this detailed Fyers Review 2023, let's have a look at the available trading platforms:
Fyers Web
Fyers web is a dedicated trading platform that can be directly accessed from its official website. There is no need to download additional software; all you need is a good internet connection. You can also use the platform without the need of Fyers web login.
The platform offers a wide range of data options and multiple attributes for technical analysis and works flawlessly with a low-speed internet connection.
It allows traders to access historical equity market charts for the past nine months and more than 20 years with more than 65 technical indicators. Users can use and customize various graphs and charts, such as candlesticks with a variety of sculpting techniques, according to their assessments.
Fyers One
Fyers One is a dedicated desktop application with features like easy one-click trading and advanced charting options. It is a trading platform that enables the simultaneous use of fundamental and technical analysis. The Fyers One download is available on both Play Store and App Store.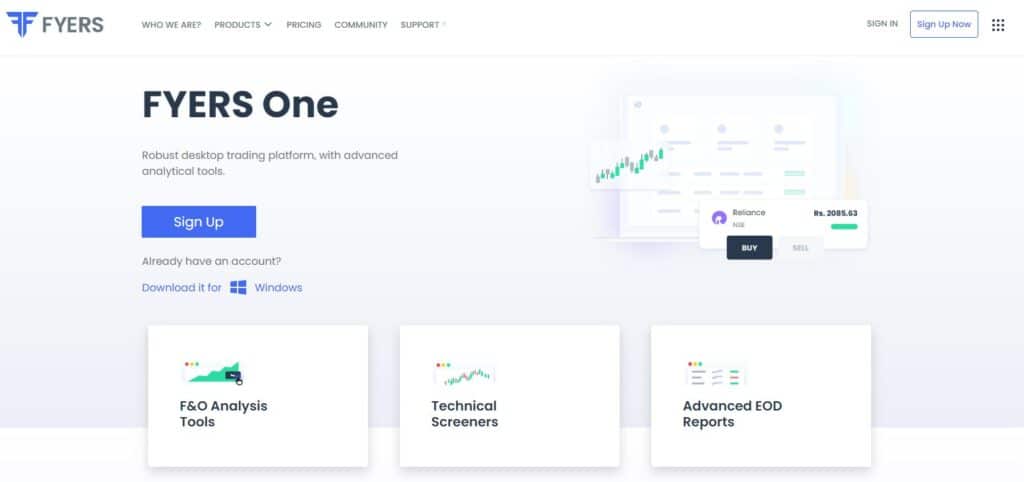 There is an updated chart feature with more than 60 indicators, including data from the past EOD and Intraday periods going back up to 30 days. This trading platform does provide daily-based charts for indices; it asserts exclusivity in doing so. User opinions are supported by the stock screeners' capability when users watch, filter, and analyze stocks.
With just one click, users can get a comprehensive update on the global index market. One of the most interesting features is real-time notifications and news releases of significant Board discussions, outcomes, and market occurrences.
Fyers App
Fyers Mobile is an advanced application specially designed for smartphones. It offers to place trades at real-time speeds with minimal internet requirements.
The Fyers application's statistical data analysis uses the most pertinent information and the simplest data. Using the stock screener, you can concurrently assess and discover trading possibilities across a range of industries and indices.
It offers extensive exposure to more than 43 different option strategies. Transfers money through a mobile phone app to even more than 25 banks.
Fyers Referral Program
The Fyers refer and earn program allow its existing users to earn passively by referring the platform to their friends or family members using the unique Fyers referral link. For each successful referral, the platform offers 20% of the Brokerage generated by their contact for the 1st year. The process and rewards remain the same for the Fyers partner program (Affiliate).
Fyers Review 2023: Research & Educational Support
The research and educational offerings of the platform are exceptional, with the availability of all major tools available to simplify traders' experience.
Here's a list of Fyers Educational and Research tools:
Educational Support
Blogs
Webinars
Events
Press Release
Research Support
Fyers Margin Calculator
Fyers Brokerage Calculator
Fyers Customer Support
The Fyers customer service team exclusively addresses online investing and trading issues. To stay in touch and respond to any questions from their clients, they offer email support and dedicated phone support.
Here's how you can connect with Fyers Customer Care:
Fyers Customer Care Number: +91-080-66251111
Fyers Email Id: [email protected]
Fyers Securities Private Limited Address: No. 225, 14th Cross Rd, 1st Block, RT Nagar, Bangalore-560032.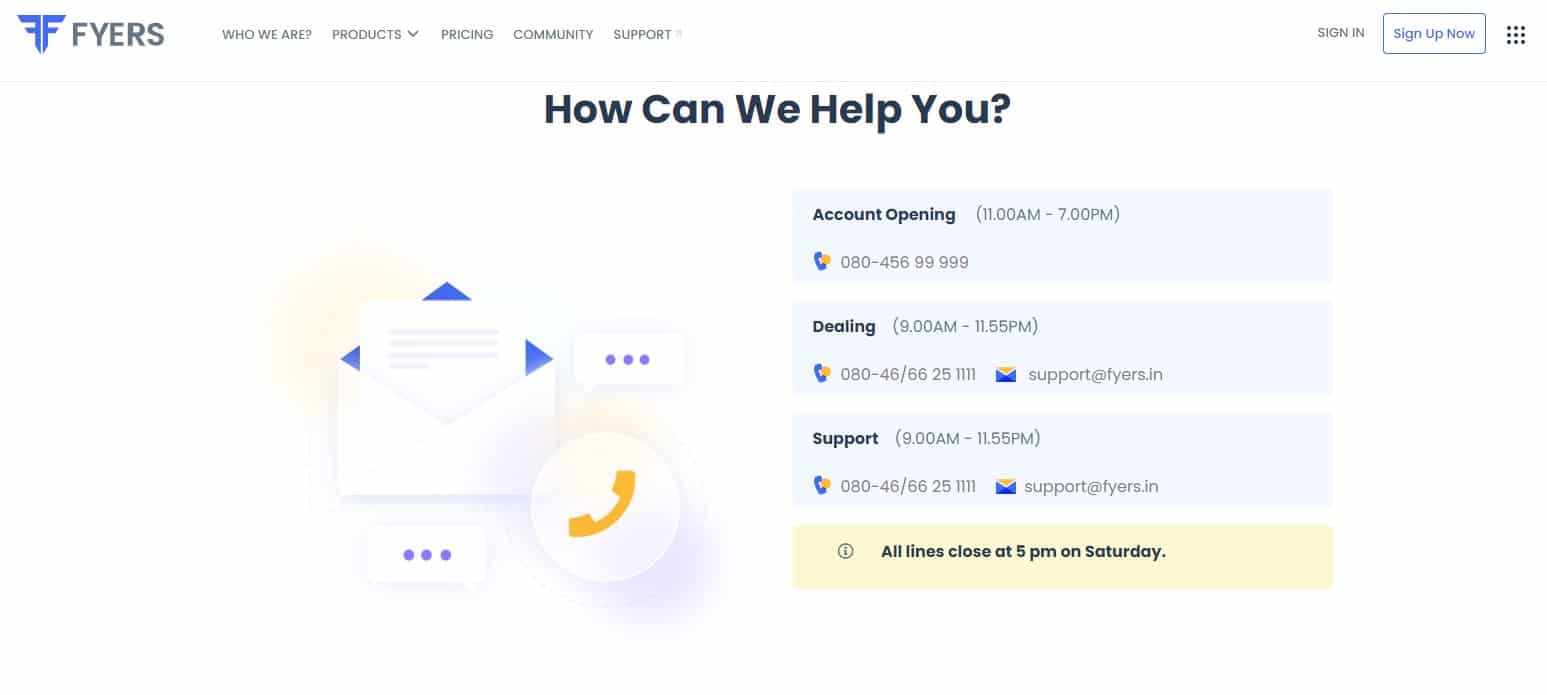 Customer care is only offered during business hours; there is no round-the-clock assistance. So, for traders, who prefer quality customer support, Fyers is not a perfect platform for them. Instead, they should choose a better one, like InvestFW or Capitalix.
Final Words On Fyers Review 2023
As we have come to an end of this detailed Fyers Review 2023, here's our unbiased verdict on the platform –
The thing we liked the most about Fyers is that it has demonstrated its creative reputation as a result of the excellent work done by young finance business entrepreneurs.
The platform provides you with a modern, technologically sound web platform for free, along with comparatively lower fees. Although the visuals and other features are identical to some others, this platform performs significantly better than others regarding stock testing. As a result, they received the 2018 award for best stock screener application.
The drawbacks of the platform will remain its limitation to investing in NSE stocks, which reduces your opportunity to diversify your holdings and limited customer support.
So, if you consider diversifying your portfolio, there are other best trading platforms, such as Capitalix, ABInvesting and InvestFW, that let you invest in all major markets, including Forex, Commodities, Stocks, Indices, and even cryptocurrencies.
FAQs
Which Is Best, Fyers vs Zerodha?
Fyers and Zerodha both have their unique features. You can choose any of them according to your trading style and risk tolerance. Zerodha has its own benefits and Fyers has its own, but it's difficult to add brownie points to one broker over the other. So you can make a choice according to your need. 
Is Fyers A Trusted Broker?
Yes, Fyers is a well-regulated broker. You can trade with Fyers with complete security. SEBI regulates it under the registration number INZ000008524. The brokerage firm provides all kinds of security measures to provide safety to your funds. You can ensure the proper safety of funds with Fyers.
Is Fyers Trading Free?
The platform charges no fees for opening a Fyers trading account, but it charges Rs. 10 per transaction of for deposit funds with RTGS/NEFT. You cannot withdraw funds from Fyers for free. 
What Is CDSL Charges In Fyers?
There are annual maintenance charges of Rs. 300. Fyers charges credit fees and debit fees of Rs 0 and Rs 7, plus there will be a CDSL charge of Rs 5.5 for selling. And CDSL charges for pledge requests is Rs. 12 per scrip. 
Is Fyers Account Opening Charges?
No, there are no Fyers account opening fees. You can open your account for free and there is no minimum deposit required. But it charges a maintenance fee of Rs. 300. 
What Is Fyers 30 Days Challenge?
The Fyers 30-day challenge is an incentive scheme designed to keep traders concentrated on their profitability. As part of the promotion, it would repay the Fyers brokerage charges up to Rs 10,000 you paid within the time frame if you trade profitably for 30 days. All trades on the NSE, BSE, and MCX are eligible for the challenge.
Is There Any Withdrawal Charges Iin Fyers?
There is no withdrawal fees on Fyers. You can withdraw your funds which takes up to 24 hours for free. It is known for providing the best trading conditions to its users.
How Do I Buy Shares In Fyers?
First, you need to open your account with Fyers. The account process is simple and easy. You need to provide the necessary information and submit your application for verification. After completing the verification process, you can fund your account and buy shares from the order page of the brokerage firm.
How Is Fyers Trading Platform?
Fyers trading platform is well designed for each type of trader, including beginners, intermediate and advanced traders. It offers two kinds of trading platforms such as Fyers One and Fyers Mobile.
Is Fyers Better Than Zerodha?
In terms of ease of use, regulatory compliance and services, Fyers probably has an upper hand over Zerodha.
How Can I Use Fyers Chart For Free?
You can use the Fyers chart to track the stock the prices of the stocks. First, you need to choose a timeframe according to your need and apply technical indicators to read the charts and apply the data to get desired results. You can also hide or show the symbols for an easy track record.
Can I Trade Crypto In Fyers?
No, Fyers does not offer cryptocurrency trading. You can invest in stocks, bonds, mutual funds, and other securities with the brokerage firm.
What Are Fyers API Charges?
The Fyers API service is free to use; henceforth, there are no charges.
How To Close Fyers Account?
In case you want to delete your Fyers account, contact customer support. You can raise the account deletion request and upon approval, your account will be deleted permanently.
How To Register Fyers Complaints?
You can connect to the platform's customer support via Phone (+91-080-66251111) and Email ([email protected]).
What Are Fyers Annual Maintenance Charges?
There are no Fyers demat account charges and it also doesn't charge Annual Maintenance fees.
What Is Margin Order In Fyers?
The Fyers margin order refers to placing a trade on the Margin facility. The platform offers additional margin exposure on day trades in equity and F&O segments.
What Is Fyers One?
Fyers One is a dedicated desktop application with features like easy one-click trading and advanced charting options. It is a trading platform that enables the simultaneous use of fundamental and technical analysis. The Fyers One download is available on both Play Store and App Store.
How To Deactivate Fyers Account?
In case you want to delete your Fyers account, contact customer support. You can raise the account deletion request and upon approval, your account will be deleted permanently.