Fyers Securities is an online stock broker based in Bangalore that was founded in 2015. I have been trading with Fyers for more than two years, and the journey has been quite good. But there are certain drawbacks also. In this review, I will walk you through its benefits and drawbacks both so that you can make your decision as per your trading style.
The NSE's Equity Cash, F&O, and Currency Derivatives divisions are where Fyers offers to trade. Focus Your Energy & Reform the Self, or FYERS is an abbreviation that stands for the company's key ideals.
In India, Fyers is a stock broker with a minimal brokerage. They are among the least expensive online stock brokers. In the Equity Delivery category, Fyers doesn't charge any brokerage. Customers can access Fyers' in-house developed web trading platform, installable desktop trading terminal, and mobile trading app for free.
Is Fyers legit or Scam?
Fyers is a legit broker and for trading securities and other asset classes. The firm is regulated by the top financial authority of India SEBI (Securities and exchange board of India). The SEBI registration number of Fyers is INZ000008524.
Other than regulation, I feel immensely satisfied with the security provided by the broker. Your funds are completely safe because of high-security measures employed by the brokerage firm.
Pros and Cons
Pros
No minimum deposit
Free equity trading
Thematic investment
Fast trading platforms for quick execution
Earn 20% on referring to others
No hidden charges
Cons
What do I like most about Fyers? Thematic Investing
Instead of picking individual stocks, thematic investment involves buying ideas or a group of stocks that are related to the theme. Customers can choose from hundreds of predetermined themes or portfolios offered by Fyers to invest in the stock market. There are specific stocks related to each theme. I highly recommend thematic investing at Fyers for greater profit.
Exchange Traded Funds (ETFs) are the most comparable type of thematic investment. When compared to exchange-traded funds (ETFs), themed investments give far more freedom because the firms to invest in are chosen by the broker, fund manager, or even a community of investors.
How you can Open your Account with Fyers?
I found out that opening a trading account with Fyers is much easier and takes very less time. You can open a trading or demat account to do online trading with Fyers.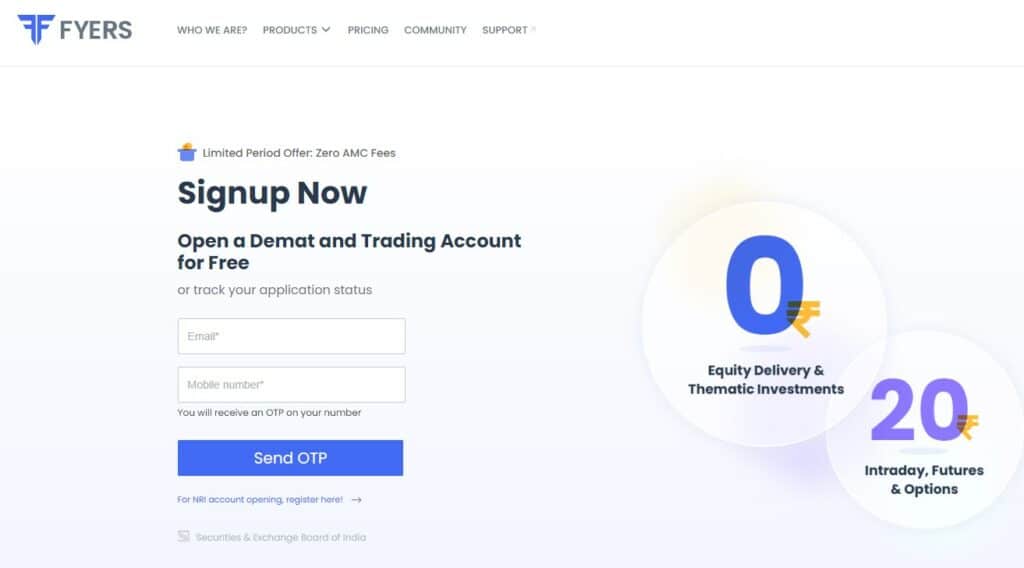 You can follow these few easy steps to open a Demat account with Fyers. The procedures for opening a trading account are as follows:
Select the open demat account tab from the Fyers website.
Complete the form by submitting all necessary information, including your name and contact information.
After scheduling a visit, a representative will come to your location.
All necessary documentation will be gathered by the representative.
Your Demat account will be opened within a few days.
Deposit and withdrawal Process
You can deposit funds into your account with RTGS/NEFT, UPI, and Net Banking. Personally, I like to fund my account with the UPI method as it is most suitable and less time taking. And for UPI, you do not have to pay any transaction fees. But for RTGS, it charges Rs. 10 per transaction.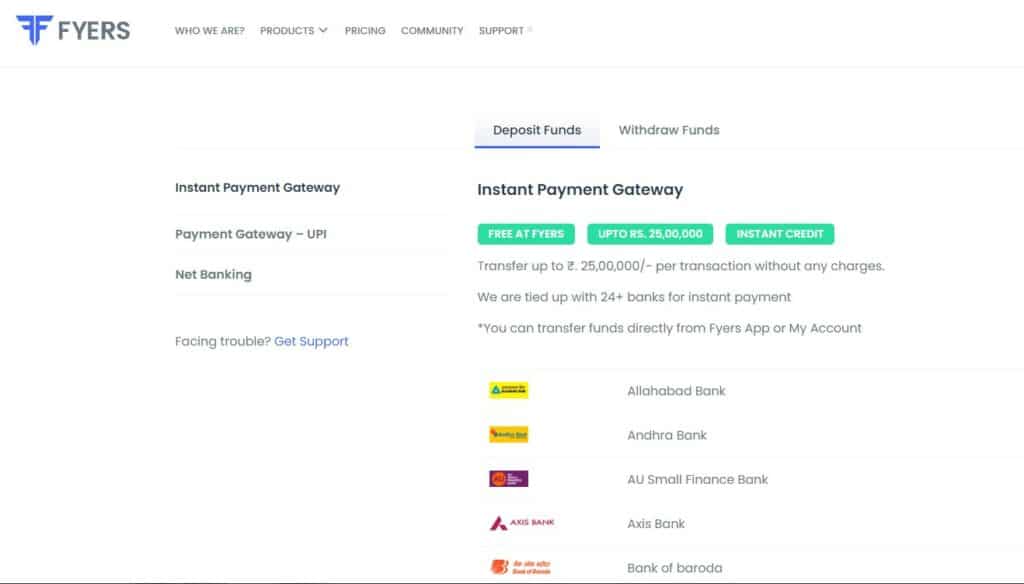 Other methods are expensive and painful, so it would be good for you to use UPI. For withdrawals, you can use Fyers account, Markets, and Web. The withdrawal process usually takes up to 24 hours to complete.
Fyers Trading Platforms
At Fyers, there are different trading platforms with their specific benefits. The trading site supports all customer logins and also allows visitors who are not customers to browse through some basic features to learn more about how the trading platform works.
The function allows the user to see the specified stocks on the home screen. They offer a wide range of data options and multiple attributes for technical investigation. Works flawlessly with a low-speed internet connection.
Obtain historical equity market charts for the past nine months and more than 20 years with more than 65 technical indicators. This is another particular function of a mobile app. It makes it easier for traders to search for real-time charts.
It is possible to get historical charts for simple analysis. Application with over 25 significant stock transactions. Users can use and customize various graphs and charts, such as candlesticks with a variety of sculpting techniques, according to their assessments.
Fyers One
I use this trading platform most often for easy one-click trading and other reasons. It is trading platform software that enables simultaneous use of fundamental and technical analysis in trading. The Trader application must be downloaded and installed on a desktop or laptop. The trading program offers a few functions.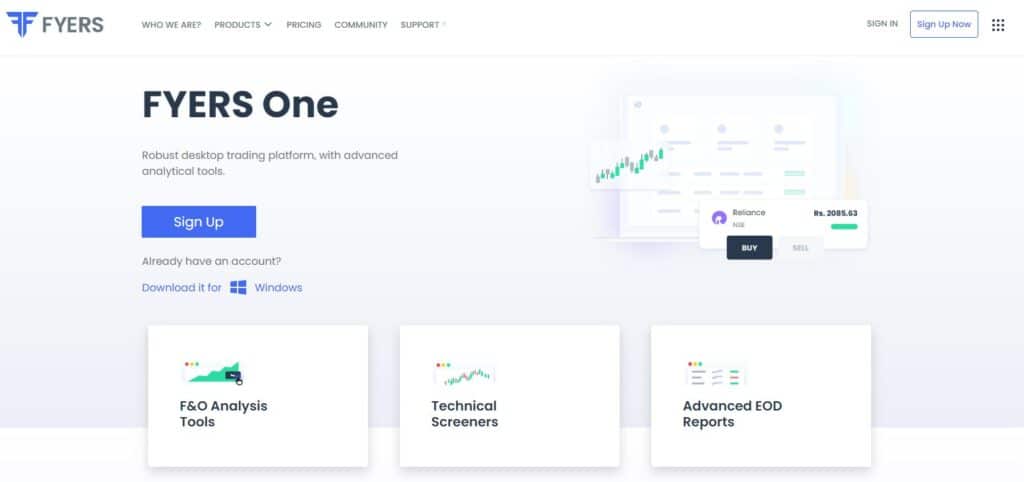 There is an updated chart feature with more than 60 indicators, including data from the past EOD and Intraday periods going back up to 30 days. This trading platform does provide daily-based charts for indices; it asserts exclusivity in doing so. User opinions are supported by the stock screeners' capability when users watch, filter, and analyze stocks.
With just one click, get a comprehensive update on the global index market.
Real-time notifications and news releases of significant Board discussions, outcomes, and market occurrences.
One of the very few features that garnered the majority of favorable feedback from analytical users. Customers can place an order with only one click thanks to features like one-click trading that account for the time factor in trading.
Fyers Mobile
In order to have the best quality of information and to conduct trades at real-time speeds, our mobile app is designed to require minimal internet data. The Mobile app is simple to use and has the following features on both Android and iOS:
Statistical data analysis uses the most pertinent information and the simplest data. You can concurrently assess and discover trading possibilities across a range of industries and indices using the stock screener.
They offer their clients one of the greatest trading platforms for desktop and mobile software trading. Get extensive exposure to more than 43 different option strategies. Transfers money through a mobile phone app to even more than 25 banks.
Charting that is more interactive is offered. When you consider the competition and mobile applications they provide to their consumers, the broker can operate to increase the frequency of his upgrades.
Fyers Customer Support
Users should anticipate receiving a high-quality answer fast in the Fyers situation because the entire processing time is perfect. The customer service team exclusively addresses issues relating to online commerce. To stay in touch and respond to any questions from their clients, they offer email support.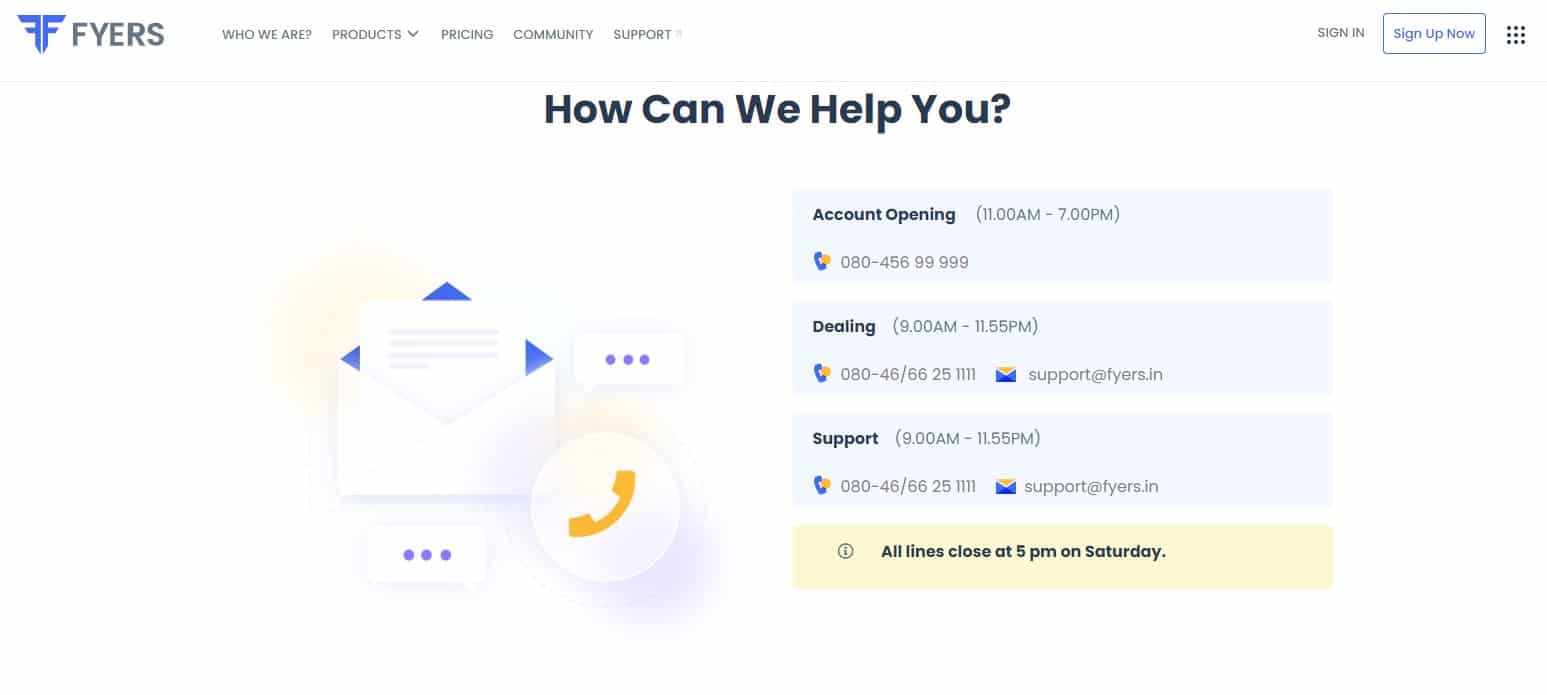 Customer care is only offered during business hours; there is no round-the-clock assistance. There are many more amenities needed for customer service support, such as chat support, a toll-free number, and offline trading.
Why should you choose Fyers?
The thing I like the most about Fyers is that it has demonstrated its creative reputation as a result of the excellent work done by young finance business entrepreneurs.
You will only be registered with NSE, which reduces your opportunity to diversify your holdings.
They provide you with a modern, technologically sound web platform for free, along with some comparatively low expenses. Although the visuals and other features are identical to some of the others, this terminal performs significantly better than others when it comes to stock testing. As a result, they received the 2018 award for best stock screener application.
It costs nothing to use this trading site. Simply open a trading and demat account with Fyers. Additionally, free is the process of opening the account. Since FYERS provides services at incredibly low prices while being a newcomer to stock trading, I still suggest you visit them despite this drawback.
FAQs
What is Fyers?
Fyers Broking was established in 2015, and in a short period of time, it rose to the top of India's cheap brokers. The headquarters of this broker organization is in Bangalore, Karnataka.
With its broking services, they provide financial segments for trading and investing in NSE Equity, NSE Futures & Options, and NSE Currency Derivatives. Fyers provides all online trading platform services to its clients at no additional charge.
It provides a proprietary online trading platform with a desktop trading terminal and a mobile app. It claims to give trading platforms the features needed for the finest possible online trading experience.
Which is best, Fyers or Zerodha?
Fyers and Zerodha both have their unique features. You can choose any of them according to your trading style and risk tolerance. Zerodha has its own benefits and Fyers has its own but you it's difficult to add brownie points to one broker over the other. So you can make a choice according to your need.
Is Fyers a trusted broker?
Yes, Fyers is a well-regulated broker. You can trade with Fyers with complete security. SEBI regulates it under the registration number INZ000008524. The brokerage firm provides all kinds of security measures to provide safety to your funds. You can ensure the proper safety of funds with Fyers.
Is Fyers trading free?
Fyers charges no fees for opening a trading account, but it charges Rs. 10 per transaction of for deposit funds with RTGS/NEFT. You cannot withdraw funds from Fyers for free.
What is CDSL charges in Fyers?
There are annual maintenance charges of Rs. 300. Fyers charges credit fee and debit fee for Rs 0 and Rs 7 plus there will be CDSL charge of Rs 5.5 for selling. And CDSL charges for pledge request is Rs. 12 per scrip.
Is Fyers account opening charges?
No, there are no account charges by Fyers. You can open your account for free and there is no minimum deposit required. But it charges maintenance fee of Rs. 300.
What is 30 days challenge in Fyers?
The Fyers 30 day challenge is an incentive scheme designed to keep traders concentrated on their profitability. As part of the promotion, the company would repay the brokerage up to Rs 10,000 you paid within the time frame if you trade profitably for 30 days. All trades on the NSE, BSE, and MCX are eligible for the challenge.
Is there any withdrawal charges in Fyers?
There is no withdrawal fees on Fyers. You can withdraw your funds which takes up to 24 hours for free. It is known for providing the best trading conditions to its users.
How do I buy shares in Fyers?
First you need to open your account with Fyers. The account process is simple and easy. You need to provide the necessary information and submit your application for verification. After completing the verification process, you can fund your account and buy shares from the order page of the brokerage firm.
How is Fyers trading platform?
Fyers trading platform is well designed for each type of trader, including beginners, intermediate and advanced traders. It offers two kinds of trading platform such as Fyers One and Fyers Mobile.
How can I use Fyers chart for free?
You can use the Fyers chart to track the stock the prices of the stocks. First, you need to choose timeframe according to your need and apply technical indicators to read the charts and apply the data to get desired results. You can also hide or show the symbols for easy track record.
Can I trade crypto in Fyers?
No Fyers does not offer cryptocurrency trading. You can invest in stocks, bonds, mutual funds, and other securities with the brokerage firm.